This delicious pan-seared grouper is made with fish seared in butter and oil, and then served with a lemon and caper pan sauce.
The first time I tasted grouper it was in a little Italian restaurant. It was pan-seared and it was... so incredibly over-cooked and dry.
Cue the sad music. Wah wah waaaahhhh.
A few years later, I tasted some absolutely fabulous grouper in a little beachside café in Florida. I happily devoured a grouper Reuben and loved it so much that I make that tasty fish sandwich at home now.
I even make a cod Reuben, because I can't always find grouper!
Recently, though, I was thinking back to that less-than-satisfying pan-seared grouper. I wanted to try making it myself, and I was confident it would be better.
This pan-seared grouper is made with fish cooked in butter and topped with a lemon caper sauce. This post includes lots of tips to help make sure your fish doesn't get dried out while cooking!
Want more seafood recipes? Try some of our favorites: pan-seared hake, sardine fish cakes, seafood pot pie, salmon Caesar salad and honey bourbon salmon.
What Does Grouper Taste Like?
Grouper is a mild, slightly sweet white fish.
It's a fairly meaty fish, and its mild flavor makes it work with lots of different flavors.
In this recipe, though, we'll let the grouper's flavor shine.
Best Method for Pan-Searing Lean White Fish
Whenever I pan-sear white fish, I go back to my favorite technique, Julia Child's fish meunière.
This cooking method involves dusting the fish with flour and cooking it in a mixture of butter and oil. The flour helps to create a golden sear and the butter and oil help keep the fish tender and juicy.
Julia's method never fails me. I use it to pan-sear rockfish, pan-sear halibut, pan-sear lingcod and even to pan-sear snapper.
Can I Make This Recipe Gluten-Free?
Yes, absolutely!
The only gluten in this recipe is in the flour that you'll use to dust the fish before cooking.
To make it gluten-free, simply swap traditional all-purpose flour for a gluten-free all-purpose flour such as Cup 4 Cup.
Can I Skip The Flour?
You sure can!
The sear will be slightly less golden, but it will still taste delicious.
How to Make Pan-Seared Grouper
Did you catch the grouper yourself? This recipe assumes that the fish has already been cleaned and filleted.
Start by patting the grouper fillets dry and dusting them with flour. Season the fish lightly with salt and set aside.
Next, add a little butter and oil to a heavy pan. I like to use this Lodge 12" carbon steel skillet.
When the butter melts, set the fish in the pan. Once you set the fish in the pan, don't touch it!
Cook the fish for three to four minutes, depending on how thick the fillets are.
I like to watch the side of the fish as it cooks. The fish will turn opaque from the bottom up, and I flip when it's about halfway cooked through.
When you think it's time to flip, use a thin metal spatula to test the fish. I use a Wusthof fish spatula but have also heard great things about this OXO fish spatula.
The fish will release from the pan easily when it's ready to flip.
After flipping, top each fillet with a little more butter.
Cook about three minutes after flipping, and then move the fish out of the pan.
Add lemon juice, capers and a handful of herbs to the pot, and stir, stir stir!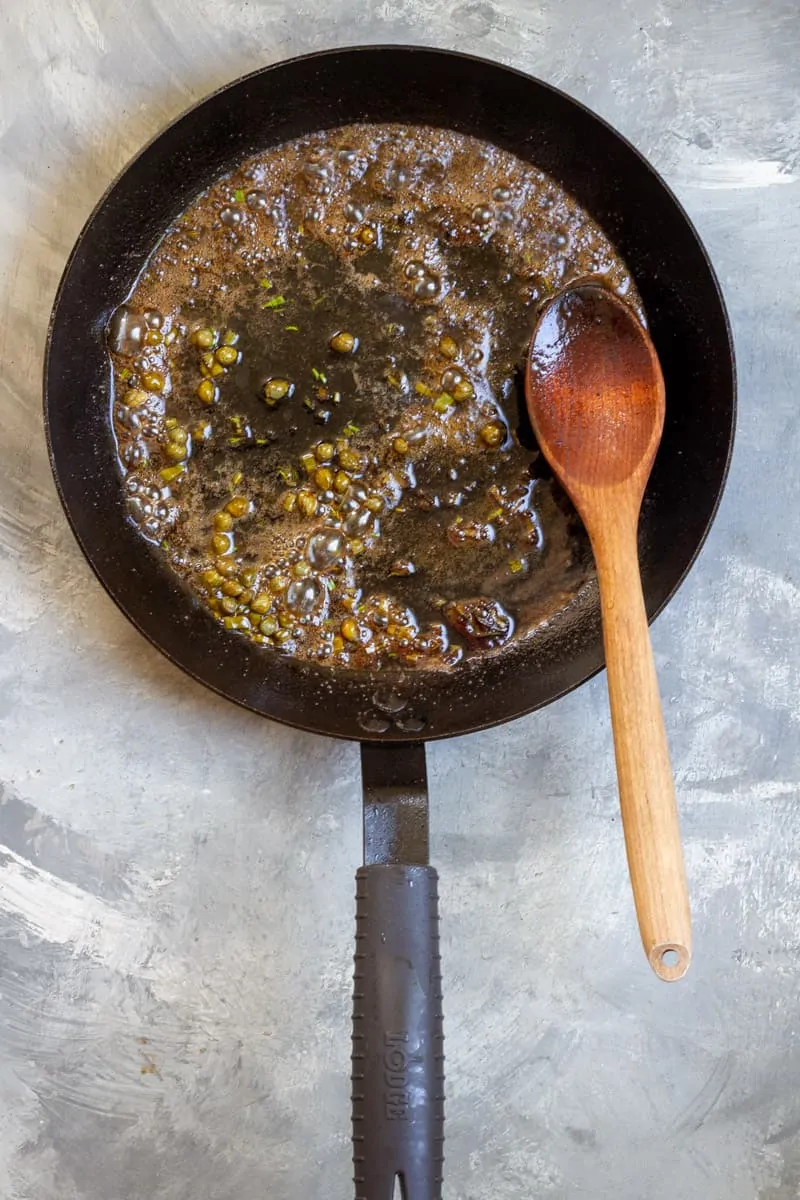 Drizzle the pan sauce over the fish and serve right away while everything is still hot.
I like to serve my pan-seared grouper along with some cauliflower garlic mash and green bean and almond salad.
Pan-Seared Grouper
This delicious pan-seared grouper is made with fish seared in butter and oil, and then served with a lemon and caper pan sauce.
Ingredients
8

ounces

grouper (2 fillets)

Or swap another firm white fish (such as halibut)

1

tablespoon

flour

Use gluten-free AP flour if needed

pinch salt, pepper

1

tablespoon

olive oil

2

tablespoons

butter, divided

1

lemon, juiced

1

tablespoon

capers

small handful fresh herbs (such as fresh rosemary, chives, or oregano)
Instructions
Pat grouper fillets dry.  Dust with flour, and shake off any excess.  Sprinkle them on both sides with salt and pepper.

Prepare a heavy pan with the olive oil and 1 TB butter. Heat on medium-high until butter is melted but not browned, then turn the heat down to medium.

Place the fillets in the pan and cook about 3-4 minutes. Don't touch the fillets until they're ready to flip.

Use a thin metal spatula to test the fish.  If you can slide the spatula under the fish without the fish sticking to the pan, it's ready to flip. If the fillets won't release, give them another 30 seconds. They'll release when they've finished cooking.

After flipping, divide the remaining 1 TB butter over both fillets.

Cook fish another 3-4 minutes until done. Fish will be golden on both the top and bottom and opaque all the way through when finished cooking.

Transfer the fish to plates, leaving the excess butter in the pan. Cover fish to keep warm, or set fish in a 200ºF oven.

Reduce heat to medium.  Add the lemon juice and capers, and stir with a wooden spoon. Add half the herbs and stir again. 

Serve fish hot with pan sauce and remaining herbs.
Nutrition
Calories:
297
kcal
(15%)
|
Carbohydrates:
8
g
(3%)
|
Protein:
23
g
(46%)
|
Fat:
20
g
(31%)
|
Saturated Fat:
8
g
(50%)
|
Trans Fat:
1
g
|
Cholesterol:
72
mg
(24%)
|
Sodium:
464
mg
(20%)
|
Potassium:
631
mg
(18%)
|
Fiber:
2
g
(8%)
|
Sugar:
1
g
(1%)
|
Vitamin A:
529
IU
(11%)
|
Vitamin C:
29
mg
(35%)
|
Calcium:
50
mg
(5%)
|
Iron:
2
mg
(11%)
Tried this recipe?
Leave a comment and rating below!