This delicious pan-seared red snapper is made with fish seared in butter and oil, and then served with a lemon and caper pan sauce.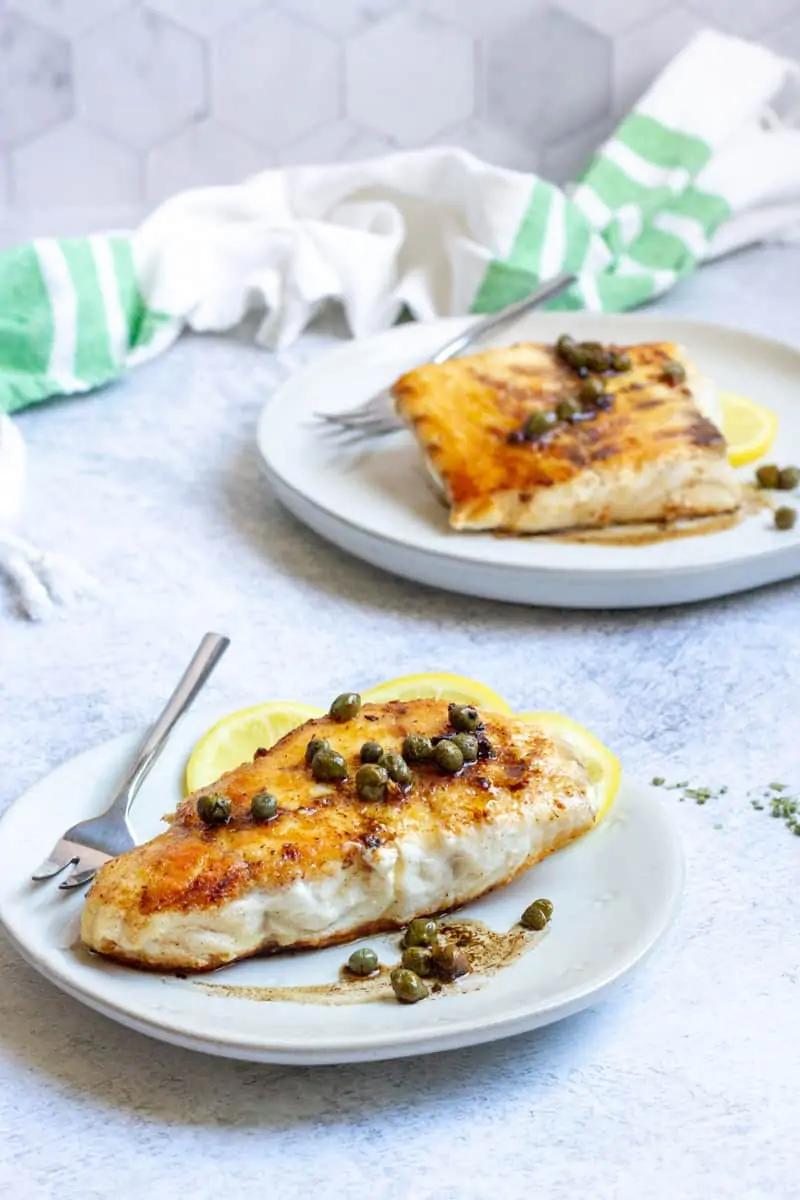 Two years ago, my husband and I had a pretty incredible chance to go to the Bahamas and help volunteer with storm clean-up.
After long days of clean-up work and construction, we were hungry. No, I take that back. We were HUNGRY.
And guys, we ate so much yellowtail snapper and red snapper in the Bahamas!
It was my first time eating this tasty fish, and while I'm sure the ocean breeze made the snapper taste even more incredible, I'm also positive that it was, in fact, absolutely delicious.
We had snapper at a Bahamian fish fry, fried snapper cooked by friends and (of course!) pan-seared snapper.
When we got home, I found myself wanting more snapper! But snapper isn't really something you can find easily at a grocery store in Kentucky.
So, when I had a chance to order some frozen red snapper from a special "Gulf of Mexico" seafood box from Sitka Salmon Shares, I jumped at it!
When the snapper arrived, I knew exactly what I wanted to do with it.
This pan-seared red snapper is cooked using the same French searing technique I use with other white fish, such as pan-seared halibut and hake. It's served with an easy lemon caper sauce, and is so good that you'll wish you had an endless supply of snapper!
Want more East-coast seafood inspiration? Try making a grouper Reuben, grilled sea scallops with bourbon sauce and blackened shrimp and grits.
What Does Red Snapper Taste Like?
Red snapper, and actually, most varieties of snapper, are firm, meaty white fish.
The flavor is sweet, nutty and mild, making it perfect with lots of different recipes.
What If I Can't Find Red Snapper?
You can use any other variety of snapper or any firm white fish in this recipe.
It works well with halibut and rockfish.
How to Prepare the Snapper Fillets
This recipe assumes your fish is already cleaned and filleted.
Start by patting the fish dry.
Dust the fillets with flour and season with a little salt and pepper. If you avoid gluten, you can swap an all-purpose gluten-free flour here, such as Cup 4 Cup and it will work perfectly.
How to Pan-Sear Red Snapper
Start by adding butter and oil to a heavy pan. I like to use this Lodge 12" carbon steel skillet.
When the pan is hot and the butter is melted, add the fish to the pan.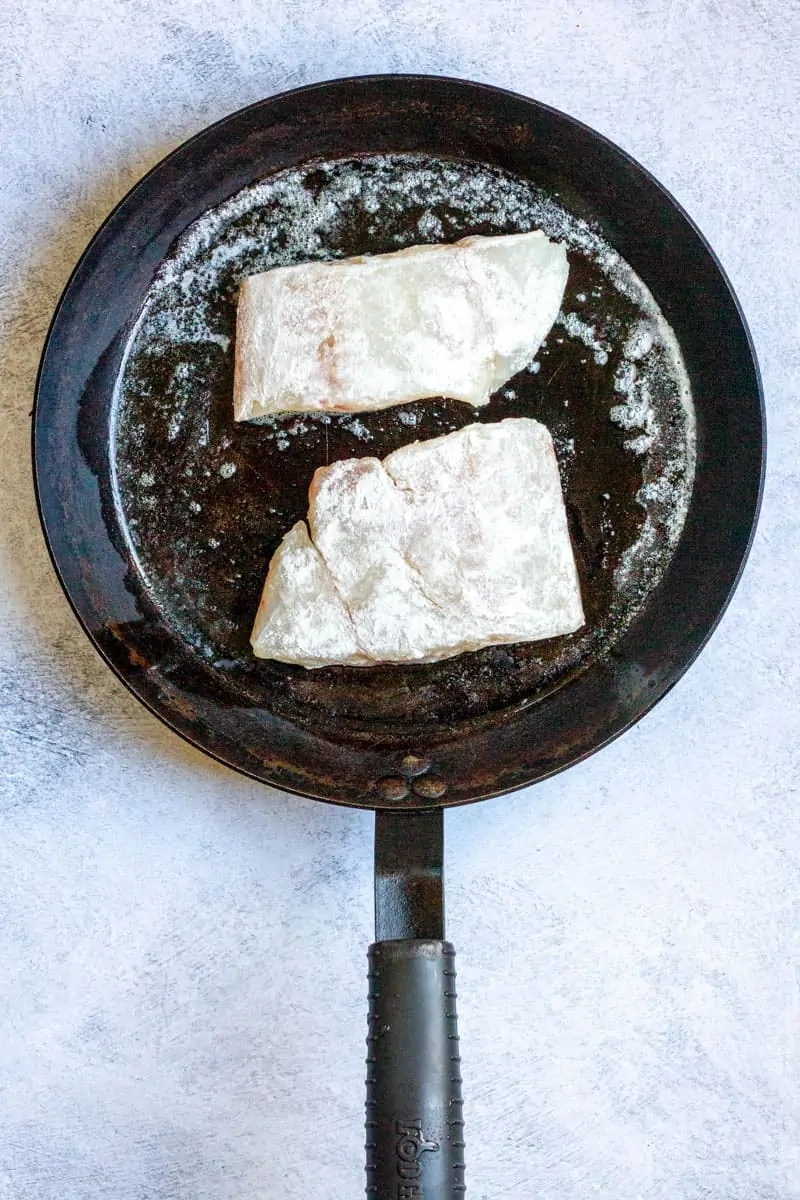 Set a timer for four minutes, and avoid touching the fish as it cooks.
After four minutes, use a thin metal spatula to test the fish. I use this Wusthof fish spatula, but I've heard great things about this OXO fish spatula.
When the fish easily releases from the hot pan, it's ready to flip. Flip the fish and top the fillets with a little more butter.
Cook the fish for about four more minutes and then remove it from the pan.
Make the Lemon Caper Pan-Sauce
Add a little lemon juice and capers to the hot pan, and stir, stir, stir with a wooden spoon.
Scrape up any bits of fish stuck to the pan. Add some fresh herbs to the pan.
Serve the pan-seared red snapper along with the caper pan sauce. I like to serve the snapper along with garlic cauliflower mash and a green bean salad.
Pan-Seared Red Snapper
This delicious pan-seared red snapper is made with fish seared in butter and oil, and then served with a lemon and caper pan sauce.
Ingredients
8

ounces

red snapper (2 fillets)

Or swap other varieties of snapper (such as yellow)

1

tablespoon

flour

Use gluten-free AP flour if needed

pinch salt, pepper

1

tablespoon

olive oil

2

tablespoon

butter, divided

1

lemon, juiced

1

tablespoon

capers

small handful fresh herbs (such as fresh rosemary, chives, or oregano)
Instructions
Pat snapper fillets dry.  Dust with flour, and shake off any excess.  Sprinkle them on both sides with salt and pepper.

Prepare a heavy pan with the olive oil and 1 TB butter. Heat on medium-high until butter is melted but not browned, then turn the heat down to medium.

Place the fillets in the pan and cook about 4 minutes. Don't touch the fillets until they're ready to flip.

Use a thin metal spatula to test the fish.  If you can slide the spatula under the fish without the fish sticking to the pan, it's ready to flip. If the fillets won't release, give them another 30 seconds. They'll release when they've finished cooking.

After flipping, divide the remaining 1 TB butter over both fillets.

Cook fish another 3-4 minutes until done. Fish will be golden on both the top and bottom and opaque all the way through when finished cooking.

Transfer the fish to plates, leaving the excess butter in the pan. Cover fish to keep warm, or set fish in a 200ºF oven.

Reduce heat to medium.  Add the lemon juice and capers, and stir with a wooden spoon. Add half the herbs and stir again. 

Serve fish hot with pan sauce and remaining herbs.
Nutrition
Calories:
306
kcal
(15%)
|
Carbohydrates:
8
g
(3%)
|
Protein:
24
g
(48%)
|
Fat:
20
g
(31%)
|
Saturated Fat:
9
g
(56%)
|
Trans Fat:
1
g
|
Cholesterol:
72
mg
(24%)
|
Sodium:
293
mg
(13%)
|
Potassium:
557
mg
(16%)
|
Fiber:
2
g
(8%)
|
Sugar:
1
g
(1%)
|
Vitamin A:
488
IU
(10%)
|
Vitamin C:
31
mg
(38%)
|
Calcium:
56
mg
(6%)
|
Iron:
1
mg
(6%)
Tried this recipe?
Leave a comment and rating below!