This post contains affiliate links. As an Amazon Associate I earn from qualifying purchases.
This salmon quiche is made with canned salmon, goat cheese, and dill, and is an easy, make-ahead breakfast or brunch!
This salmon quiche exists because I was shopping in my own pantry for dinner, and inspiration struck.
In other words, I couldn't figure out what to make for dinner, so I started digging through what was left in my fridge, freezer, and pantry.
I found goat cheese, leftover from making Swiss chard quiche.
I had pie dough tucked away in my freezer.
I found canned salmon, hidden behind my canned veggies, leftover from making salmon burgers and salmon patties.
And of course, I had the herbs in my container garden, just waiting to be trimmed back.
The answer to my dinner dilemma seemed clear-- quiche.
Salmon quiche.
This salmon quiche is an easy, make-ahead breakfast, brunch, or dinner, and is made with ingredients that you might (probably?) already have on hand.
Want more quiche ideas? Try mushroom quiche, butternut squash quiche, broccoli cheddar quiche, and ratatouille veggie quiche from Garlic + Zest!
Need a new pie pan? Or maybe you just want another one? I love this ruffled pie pan!
Step One: Blind Bake the Dough
To start making this quiche, bake the pie dough for about 10 minutes.
Blind baking will help the pie crust stay crisp, even though you're adding a lot of wet ingredients.
To blind bake the dough, push the pie dough into a pie pan, and prick the bottom with a fork.
Next, line the inside of the dough with parchment paper, and add some weight to the dough. You can use pie weights, but I just use dry beans.
Blind Baking Tip: Keep a couple pounds of dry beans in a bag, label the bag "pie weights," and simply reuse the same beans over and over again.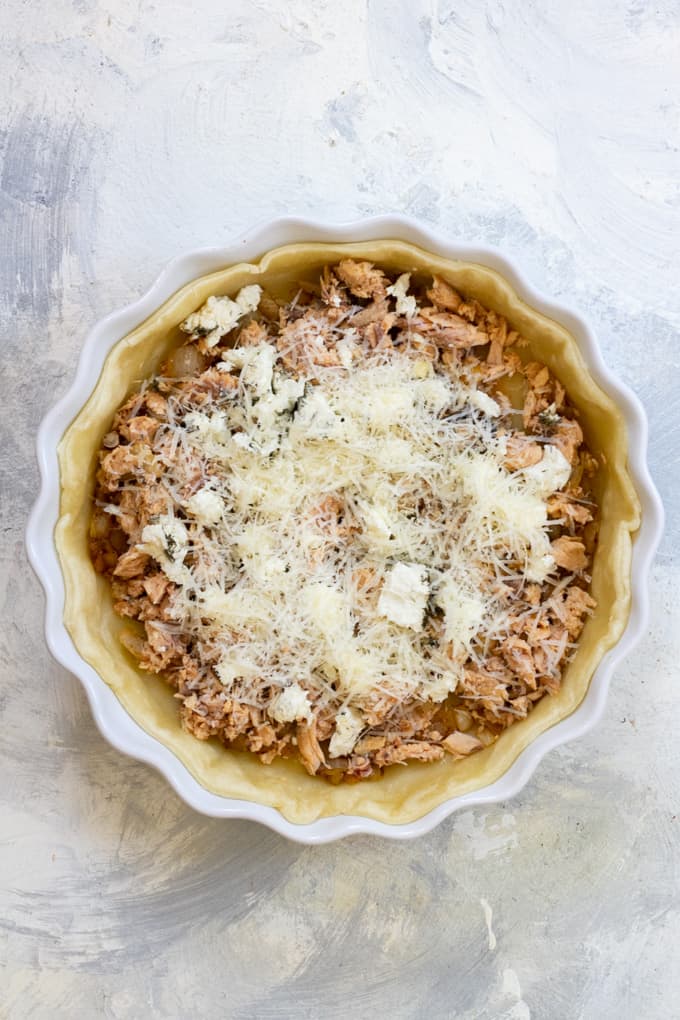 Step Two: Add the Salmon to the Quiche
Next, flake apart some canned salmon, and spread it across the bottom of the pie dough.
Top it with half the cheese.
What Kind of Salmon Should I Use?
You'll see both pink salmon and sockeye salmon sold in cans. Either type will work perfectly in this recipe.
Salmon cans typically come in 5, 7, or 13 ounce cans. Use either size small can, or half of a larger can.
Tip: Learn more about the different types of salmon, and then check out more canned fish recipe ideas!
Step Three: Beat the Eggs, Dairy, + Herbs
Next, use an electric mixer to beat the eggs, milk, a little cream, and fresh dill together.
Beat it until the mixture doubles in size, and then gently fold in the rest of the cheese.
Pour it into the quiche, and slide it into the oven.
Step Four: Let the Salmon Quiche Cool
Once the quiche is golden, and the center has mostly set (but still jiggles), take it out of the oven and let it cool.
While it cools down, mix together the mustard yogurt sauce.
Store the quiche in the fridge for later, or dig in as soon as it cools down. Serve it with a little of the sauce, and enjoy!
Salmon Quiche
This salmon quiche is made with canned salmon, goat cheese, and dill, and is an easy, make-ahead breakfast or brunch!
Will It Keep?
2-3 Days (Fridge), 2 Months (Freezer)
Ingredients
Salmon Quiche:
1

tablespoon

olive oil

1

onion, diced

1

teaspoon

smoked paprika

1

teaspoon

salt

1

can salmon (~6oz), well drained + flaked apart

2

cloves garlic, roughly chopped

1

9" pie dough (prepared)

4

ounces

goat cheese, flaked apart with a fork

1

ounce

Parmesan, freshly grated

3

eggs

⅔

cup

milk

⅓

cup

heavy whipping cream

2

sprigs fresh dill, removed from stem + roughly diced
Mustard Yogurt Sauce (Optional):
½

cup

plain Greek yogurt

2

teaspoons

rice wine vinegar (or sub lemon juice)

2

teaspoons

Dijon yogurt

¼

teaspoon

salt
Instructions
Cook Onion:
Heat oil in a skillet over medium heat. When oil is hot, add onion, smoked paprika, and salt. When onions soften, add garlic and cook until fragrant.
Blind Bake Pie Dough:
Arrange pie dough inside a pie pan. Prick the bottom and sides with a fork. Set parchment paper on top of dough, and add pie weights or dry beans. Bake 10 minutes. Remove weights and parchment paper.

Tip: Pre-made, pre-formed, frozen pie dough will not need pie weights added while blind baking.
Make the Quiche:
Gently press the onion mixture into the pie dough. Top with the salmon, and then add half the cheese.

Add 3 eggs, milk, cream, and dill to a mixing bowl.  Use an electric hand mixer to whip the mixture until it doubles in size.  (Alternatively, whisk vigorously by hand.)

Add the remaining cheese to the egg and milk mixture, and gently stir with a spoon. Take care not to over-stir.

Pour the egg mixture into the pie pan.

Tip: Do not overfill the quiche-- any extra mixture can be discarded, saved for another quiche, or used to dip bread in for French toast.

Tent quiche loosely with aluminum foil. Bake 45 minutes. Remove foil, and bake 15-20 more minutes until the quiche is golden and set. Quiche should jiggle slightly when moved.

Allow quiche to cool for at least 1 hour, or refrigerate overnight. (Quiche will not be fully set until cooled.)

While quiche cools, mix together all ingredients for the yogurt sauce. Refrigerate until you're ready to serve.

Tip: Not all yogurts + Dijon mustards taste the same or have the same consistency. Taste sauce after mixing, and do the following if it's not perfect: Add more mustard for extra flavor, more yogurt if the mustard is too strong, more vinegar if the sauce is too thick, and more salt if the sauce is bland.

Leftovers / Make Ahead + Refrigerate:

Refrigerate and use within 2-3 days.

Make Ahead + Freeze: 

Bake quiche, and allow to cool completely.  Wrap tightly with plastic wrap, and slide into a freezer bag.  Use within 2 months.

Reheat from Frozen: Do not thaw.  Bake at 350ºF for 20-25 minutes, or until pie is warm.Tip: If freezing, bake quiche in either a disposable aluminum pie pan or in a tart pan with removable sides.  (Allow quiche to fully cool before removing the pan.)Sauce should not be frozen, but can be refrigerated for up to a week.
Notes
For Deep Dish Pie Pan:  Add 1 extra egg and ½ cup milk or cream.
Nutrition
Calories:
271
kcal
(14%)
|
Carbohydrates:
13
g
(4%)
|
Protein:
13
g
(26%)
|
Fat:
18
g
(28%)
|
Saturated Fat:
8
g
(50%)
|
Cholesterol:
104
mg
(35%)
|
Sodium:
604
mg
(26%)
|
Potassium:
174
mg
(5%)
|
Fiber:
1
g
(4%)
|
Sugar:
2
g
(2%)
|
Vitamin A:
580
IU
(12%)
|
Vitamin C:
1.2
mg
(1%)
|
Calcium:
169
mg
(17%)
|
Iron:
1.4
mg
(8%)
Tried this recipe?
Leave a comment and rating below!