This broiled scallop gratin with pumpkin is a lighter, seasonal take on the classic Coquilles St. Jacques, and is made with sea scallops cooked in a creamy pumpkin sauce.
Do you have a favorite restaurant?
I probably have about ten favorites (I can't choose!), but my favorite "fancy date night" restaurant is a little French place downtown.
It's where the husband proposed, and it's where we've gone each year (so far) for our anniversary.
And that is where I first tasted the French dish Coquilles St. Jacques.
What Is Coquilles St. Jacques?
Coquilles St. Jacques is a type of broiled scallop gratin.
It's a rich, buttery and creamy scallops dish.
Sometimes you'll find it baked, sometimes broiled, but it is ALWAYS decadent.
In fact, it's so buttery and creamy, that it might-- just possibly-- be a little too decadent.
Is that possible?
My waistline tells me that yes, yes it is.
This autumn take on the rich and creamy dish is healthier and lightened up, with nutrient-rich pumpkin and no cream.
Don't worry though-- your taste buds won't know there's no cream, because the PUMPKIN THICKENS THE MILK!
This broiled scallop gratin with pumpkin still feels decadent, and puts the spotlight on the sea scallops and pumpkin sauce.
Looking for more sea scallop recipes? Try seared seared sea scallops with wine sauce, grilled scallops with bourbon sauce, pumpkin scallop alfredo, and scallop fra diavolo.
Buying High Quality Scallops
For this gratin to be as luscious as possible, use sea scallops and not bay scallops.
Bay scallops are the tiny scallops-- you want the big ones instead.
The sea scallops will give this dish a silky texture that will contrast nicely with the crunchy top and the smooth, creamy sauce.
Shopping Tip: Some scallops have chemical additives that can affect the flavor of the finished dish. Get shopping tips in this How to Pan-Sear Fish post.
Making Pumpkin Broiled Scallop Gratin
To make broiled scallop gratin, start by patting your sea scallops dry and then tossing them in a little salt.
Set them in the fridge until you're ready for them.
Next, sauté a sliced shallot in butter, and then brown a few sliced button mushrooms in the same pan.
Divide the shallot and mushroom slices between two ramekins.
Don't have ramekins?
You can also use a shallow casserole dish.
Add a little more butter to the same pan, let it melt, and then add some milk.
Whisk and combine the two, and then whisk pumpkin into the mixture.
Try swapping homemade pumpkin purée for canned! Make this Instant Pot Pumpkin Purée or use your oven for Roasted Pumpkin Purée!
Season the sauce to taste with salt, cayenne, and nutmeg.
Pull the scallops out of the fridge, and divide them among the ramekins.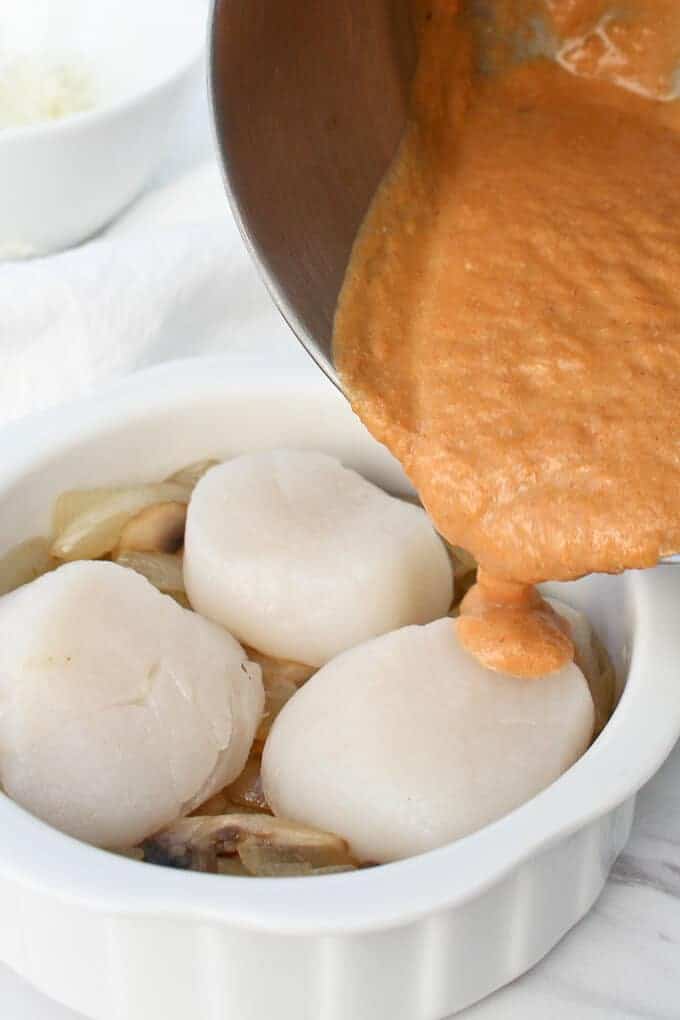 Pour the sauce in the ramekins, covering the sides (but not the tops) of the scallops.
Top everything with a little freshly ground Parmesan, and broil until the tops are golden brown.
Serve this healthy scallop gratin with some crusty bread to soak up the sauce, honey balsamic brussels sprouts, and a glass of crisp hard apple cider.
Looking for more high-end shellfish recipes?  Try grilled lobster tails with bourbon, crab Louie salad, Dungeness crab egg Benedict, king crab salad with avocado dressing, and crab fries.
Scallop Gratin with Pumpkin
This broiled scallop gratin with pumpkin is a lighter, seasonal take on the classic Coquilles St. Jacques, and is made with sea scallops cooked in a creamy pumpkin sauce.
Will It Keep?
No, But Can Be Partially Prepared Ahead of Time
Ingredients
6

ounces

sea scallops (3-5 per person, depending on the size of scallops)

½

teaspoon

salt, divided

2

tablespoons

butter, divided

1

shallot, or sub ½ onion, thinly sliced

3

button mushrooms, sliced

½

cup

milk

¼

cup

pumpkin purée

¼

teaspoon

ground cayenne (optional)

¼

teaspoon

freshly ground nutmeg

¼

cup

freshly grated Parmesan

(Optional): 2-3 fresh chives, diced, to garnish

(Optional) Serve with: crusty bread, a green salad
Instructions
Pat scallops dry and toss with about half the salt. Set scallops in the refrigerator until you're ready to use them.

In a large stainless steel pan, heat 1 tablespoon butter over medium heat.  When the butter is melted, but before it begins to brown, add the sliced shallot.  Sauté 2-3 minutes, or until the shallots begin to brown.

Push shallots to the edge of the pan (or remove shallots and reserve them), and add sliced mushrooms. Sauté mushrooms until they're browned, about 4 minutes.

Remove mushrooms and shallots, and divide between two ramekins. Set aside.

Add remaining 1 tablespoon butter to the pan, and lower heat to medium low.  Whisk in milk, and then whisk in the pumpkin.  Continue to whisk or stir until the sauce is smooth and creamy (about 1 minute).  

Season the sauce to taste with remaining salt, cayenne, and nutmeg.  (Make sure to actually taste the sauce-- if it tastes bland, add a little more salt.  If you want it a little spicier, add more cayenne or nutmeg.)  Remove the sauce from the heat.

Move an oven rack to the top of your oven, and turn on the broiler.

Set scallops in the ramekins, on top of the mushroom and shallot mixture. Pour the pumpkin sauce into the ramekins, covering the SIDES of the scallops, but not the tops.

Divide the Parmesan on top of both ramekins. Set ramekins on a baking sheet, and then slide it onto the top oven rack under the hot broiler.

Broil the scallops for 5-7 minutes until the cheese has turned golden and is bubbling. (Watch the scallops carefully after about 5 minutes-- you want them golden, not burnt.)

Allow the ramekins to cool slightly, top with fresh chives (if desired) and serve your broiled scallop gratin while it's still hot.

Make Ahead:

This dish can be completely assembled up to 1 day ahead, but wait to broil it until just before serving.
Nutrition
Calories:
273
kcal
(14%)
|
Carbohydrates:
12
g
(4%)
|
Protein:
18
g
(36%)
|
Fat:
17
g
(26%)
|
Saturated Fat:
11
g
(69%)
|
Polyunsaturated Fat:
1
g
|
Monounsaturated Fat:
4
g
|
Trans Fat:
1
g
|
Cholesterol:
65
mg
(22%)
|
Sodium:
1246
mg
(54%)
|
Potassium:
476
mg
(14%)
|
Fiber:
2
g
(8%)
|
Sugar:
6
g
(7%)
|
Vitamin A:
5420
IU
(108%)
|
Vitamin C:
3
mg
(4%)
|
Calcium:
240
mg
(24%)
|
Iron:
1
mg
(6%)
Tried this recipe?
Leave a comment and rating below!