Great Smoky Mountains National Park is a huge area stretching over two states! Here's a guide to things to do in the North Carolina Smokies.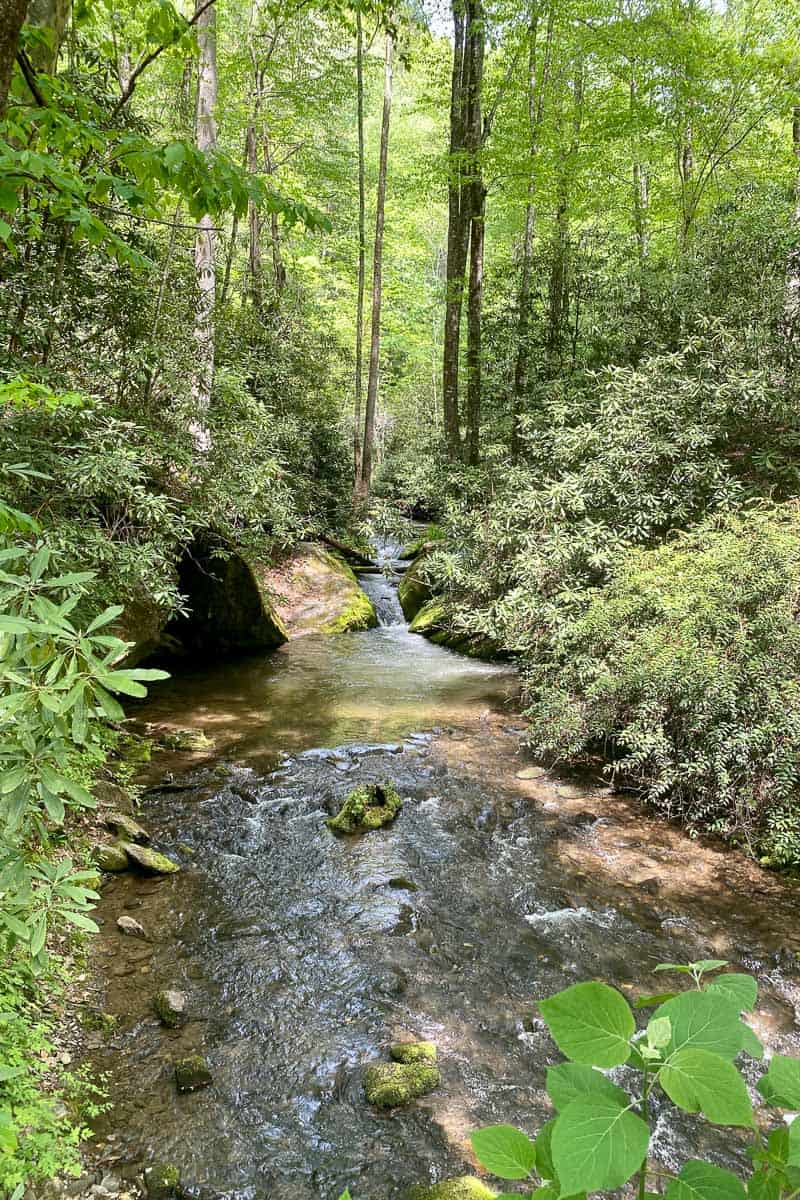 Are you planning a visit to the Great Smoky Mountains National Park?
When many people visualize the Smokies, they imagine breathtaking mountaintop views – and maybe a few crowded resort towns full of food, shopping, and tourist events.
The Tennessee side of the park is home to many such attractions, including Dollywood, Gatlinburg, and Pigeon Forge, and some of our favorite trails (like Alum Cave and Charlies Bunion).
Those spots are must-visits for many vacationers — but you should also consider whether you want a game plan for avoiding crowds!
If that's the case, or if you just want to branch out and see more of the park, the North Carolina side of the Smokies might be your answer. Those gorgeous mountain views are still available, but in a rather quieter, less crowded experience.
Keep in mind that, as of spring 2023, a parking pass is required if you're going to be stopping somewhere for longer than 15 minutes. You can buy them online or on site!
Here's a list of the top ten things to do in the North Carolina Smokies.
1. Go For a Hike
There are several beautiful waterfall trails on the North Carolina side of the park.
The Deep Creek area near Bryson City has a 2.2-mile loop that takes you past three waterfalls, including Tom Branch Falls, pictured below.
Looking for mountaintop views? Also in the Deep Creek area, you can hike the Noland Divide Trail for about three miles to reach the Lonesome Pine Overlook. The views are amazing.
And by the way, if you do want to hop over to a couple of the most popular Tennessee hikes, some of them are very close to the state border! This includes Charlies Bunion and Andrews Bald.
Sweat Heifer Creek, another waterfall trail, is also right on the border between the two states.
I always bring along a trekking pole for mountain hikes – it helps a lot!
2. Ride a Float Down Deep Creek
This suggestion comes with a caveat.
The official word from the Great Smoky Mountains National Park is that water recreation in the park is potentially hazardous and not recommended.
This is because storms high up in the mountains can create unexpected flooding further downstream, even if it hasn't rained where you are!
That said, a lot of people do go tubing. There are multiple places to rent inner tubes for the ride, like Deep Creek Tube Center.
If you decide to go, keep aware of the weather in the area. And consider getting a life jacket when you rent the tube, or maybe bring your own!
3. Go Whitewater Rafting
If a bit more adrenaline is your style, you could go whitewater rafting on the Nantahala River, near Bryson City.
Rolling Thunder River Company and Wildwater both offer mild to moderate guided trips.
Just like with tubing, be sure to keep an eye on the regional weather and river conditions!
4. Explore Bryson City
I've mentioned Bryson City in various places on this list, and that's because it's a great home base on the North Carolina side of the Smokies.
The town is small and easy to get around, with cute local shops and restaurants (like the Everett Hotel Bistro).
Besides what made it onto my list, there are quite a few other attractions in Bryson City, including festivals and markets with local produce and artisan products.
5. Go Camping
Check out the Deep Creek campground for camping inside the park. It gives you easy access to some of the beautiful hiking trails mentioned above.
We've also stayed at the KOA in Cherokee and had a really nice time. It's right outside the edge of the park, and has extra activities throughout the summer especially designed to keep families entertained.
6. Stay at a Quaint Bed and Breakfast
There are several nice inns in Bryson City. The Folkstone Inn has ten themed guest rooms and cooks up a three-course farm-to-table breakfast for you!
Or you can book a private, high-end cabin in the woods on AirBnB. We stayed at the cabin pictured below, and it was adorable.
7. Take a Day Trip to Sylva
Sylva is about 20 minutes east of Bryson City. Though it's a small town, it's got some neat food and drink options!
We especially enjoyed trying beer flights at Innovation Brewery. The brewery is on the same lot with Pie Times Pizza Company and Cosmic Carry-out (which serves burgers and veggie burgers).
You can get food from either place to eat at the brewery. It had both indoor seating and a covered patio with seating (and a view of the river!).
The brewery promises over 25 beers on tap (and some non-alcoholic ones too), with a rotating line of seasonal drinks. They host live music some nights.
We also loved DaLaya Thai Cuisine. Its northern Thai flavors were a bit different from what we were used to, and so wonderful!
8. Take a Day Trip to Asheville
Asheville, North Carolina, is kind of its own little world, one where you could keep yourself occupied for days with all the arts and culture (and food!) on offer.
From Bryson City, it's just over an hour's drive to Asheville.
The New Belgium Brewery downtown is open for tours, and is a fun, slightly quirky place to visit!
Some of our favorite food in the area comes from the Sierra Nevada taproom and restaurant at Mills River (another half-hour south).
Also south of Asheville is the Souther Williams Vineyard at Fletcher. Their hike and sip tour was so relaxing!
Seriously, though, these places are the tip of the iceberg when it comes to exploring Asheville and its adjacent towns. There's just so much to try!
9. Drive the Blue Ridge Parkway
Did you know that a road can also be a park?
I didn't! But it turns out the Blue Ridge Parkway is exactly that. It's managed by the National Park System, and almost every year it ends up being their most visited property. (Their most visited traditional park is the Great Smoky Mountains.)
This incredibly scenic 469-mile drive is approximately half in Virginia and half in North Carolina.
The North Carolina section features scores of parks, overlooks, visitor centers, and even the highest point on the entire parkway (over 6,000 feet).
The southern end of the drive is right on the edge of the Smoky Mountains, near Cherokee, North Carolina.
10. Take a Scenic Railroad Tour
The Great Smoky Mountains Railroad has excursions departing from the depot in Bryson City every day through the summer months.
The railroad runs both steam and diesel engines, and trips last 4+ hours. There are options for on-board dining, and even a special Moonshine Experience with tastings and cocktails.
Check their website for the schedule and for discount opportunities.
As you can see, there's no shortage of things to do on the North Carolina side of the Smokies. Let us know in the comments what you're most excited to try!