This post contains affiliate links. As an Amazon Associate I earn from qualifying purchases.
Head to the Deep Creek hiking trails (in the south part of the Great Smoky Mountains) for short, scenic loops and peaceful waterfalls!
The Deep Creek trail system is located in the Great Smoky Mountains National Park near Bryson City, North Carolina.
You can hike, camp, and even do a little bit of biking in this area. Check out the park service's website for details or to reserve a campsite!
Don't forget that you'll need a paid parking pass for anywhere you stop for longer than 15 minutes. You can buy it online or when you arrive at the park.
Deep Creek isn't quite as busy as some other areas of the park, so it's a great pick if you want to avoid crowds in the Smokies. In fact, there are tons of things to do on the North Carolina side of the park.
The Deep Creek hiking trails feature several different interconnecting routes. The trails range from easy to moderate, and you can choose your own route to make a loop that suits you.
I recommend taking a photo of the trail map! (Also, the Smoky Mountains Trail Map from National Geographic is a great one to have on hand.)
Looking for more brilliant hikes in the Great Smoky Mountains? See our guides to Abrams Falls, Sweat Heifer Creek Trail, Mount Leconte, and Charlies Bunion!
Where to Begin on the Deep Creek Hiking Trails
We opted to hike the 2.2-mile Three Waterfalls Trail.
If you prefer a shorter hike, it would be easy to simply hike to one of the waterfalls closest to the trailhead and then turn back.
There's also the longer "Deep Creek Indian Loop" trail (4.5 miles).
We took the Three Waterfalls Trail in a clockwise loop, and started by heading towards Juney Whank Falls.
This section of trail is fairly easy and wide.
Head down the stairs to see Juney Whank Falls from a bridge that crosses the falls at about their halfway point.
Taking both the upper and lower section of the falls together, the water drops 90 feet in total.
When you're ready to head on, walk back up the stairs and continue on the loop.
This next section of the trail has a steady incline.
I like to go with a trekking pole for just such occasions. It helps a lot! If you're looking for poles that are higher-end, try the Black Diamond Alpine carbon trekking poles.
It was also exceptionally pretty with wildflowers all around!
Juney Whank Falls to Indian Creek Falls
Continue along the loop, following the signs that say "Deep Creek Horse Trail."
When we got to a sign pointing to Indian Creek Falls, we turned right to head to the next waterfall.
If you want to do the longer Deep Creek Indian Loop Trail, go left here.
The gently flowing water of the creek gives you a nice soundscape for your hike!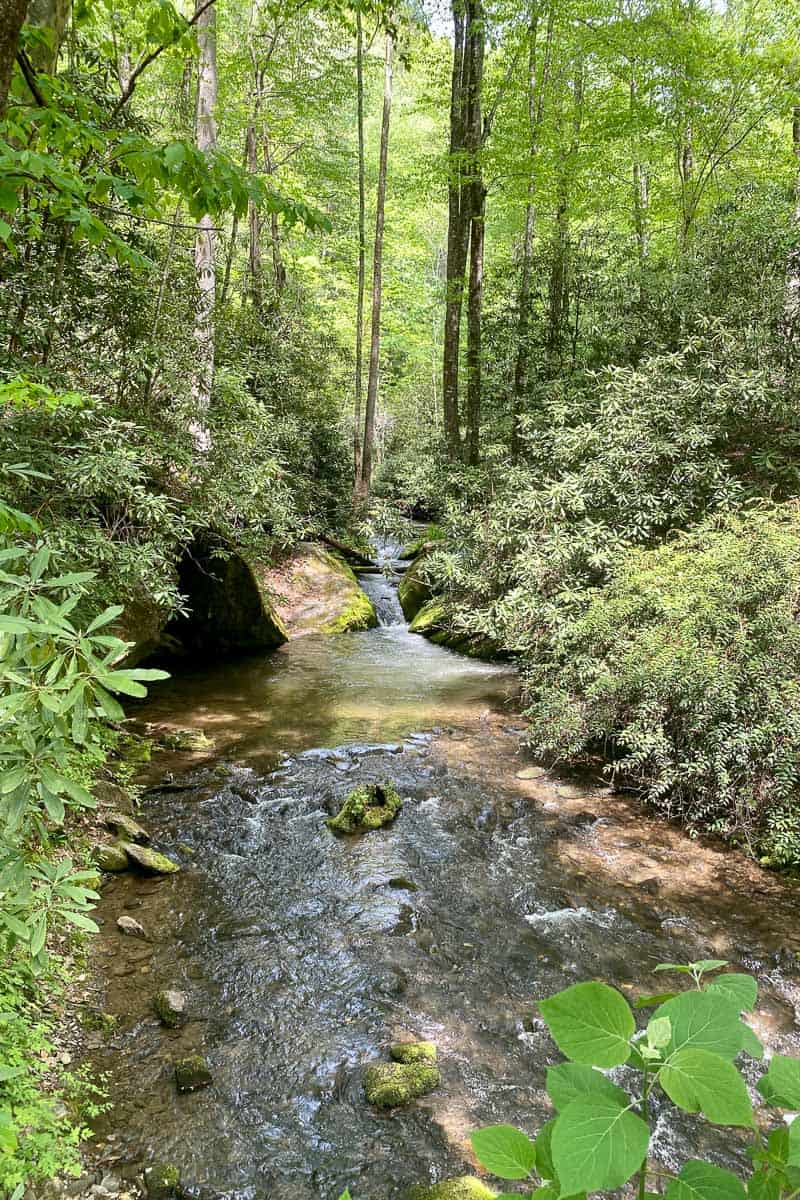 When you cross the bridge pictured below, turn left to follow the signs for Indian Creek Falls.
The signs are detailed and clear, so it's pretty easy to figure out whatever length of loop hike you're comfortable with!
Keep following the signs to see Indian Creek Falls.
A good spot for a little break!
Indian Creek Falls to Tom Branch Falls
When you're ready, turn around and head back towards the bridge.
Then continue along the loop, this time following the signs for Tom Branch Falls.
This section of the trail has lots of benches along the path in case you want to stop and rest. It's an inviting prospect!
If you're visiting on a warm day, you might see people riding inner tubes down the creek.
(The national park actually doesn't recommend swimming or tubing in any of their waterways. The river levels can rise swiftly if there's a storm up in the mountains! Even hikers are encouraged to be cautious near streams.)
Tom Branch Falls, your next destination, is right next to the trail.
When we were here, there were lots of people in the water and climbing on rocks near the falls.
Tom Branch Falls are 60 feet high, and an easy hike from the parking lot, so expect this falls to be more crowded than the other two.
From here, it's a quick walk back to the trailhead.
If you've brought your bike along, you can also ride it on the old roadbeds in this area. (The path to Tom Branch Falls, for instance.)
Looking for a great upscale restaurant to finish off your day? I recommend Everett Hotel Bistro in nearby Bryson City!
Have you explored the Deep Creek hiking trails yet? Let us know in the comments what route you took!