This post contains affiliate links. As an Amazon Associate I earn from qualifying purchases.
Looking for an adventure in Great Sand Dunes National Park? Try sand sledding or sandboarding in Colorado!
On a recent camping and backpacking trip to Colorado, my husband and I stopped at Great Sand Dunes National Park with one thing in mind — sandboarding in Colorado.
Actually two things: I wanted to sand sled instead of sandboard.
Here's how we made it happen!
Looking for more things to do in Colorado? Check out our backpacking guide for the Elk Park to Needleton loop in the Weminuche Wilderness, and head to Pagosa Springs for natural hot springs!
Where to Get Gear for Sandboarding in Colorado
Several shops near the national park rent sandboards and sleds. The closest store is Oasis, located just a few miles before you get to the park.
We rented our boards at Oasis, and at the time they were $21 per board per day.
Oasis also sells sandboards, and they are pricey! Renting is probably the way to go unless you're a local and will be coming often.
Should I Choose a Board or a Sled?
That depends on what you want to do!
Personally, I don't snowboard, and I didn't think I'd magically figure out how to board on sand very quickly, so I opted for the sand sled (pictured below). I just wanted to sit down and slide!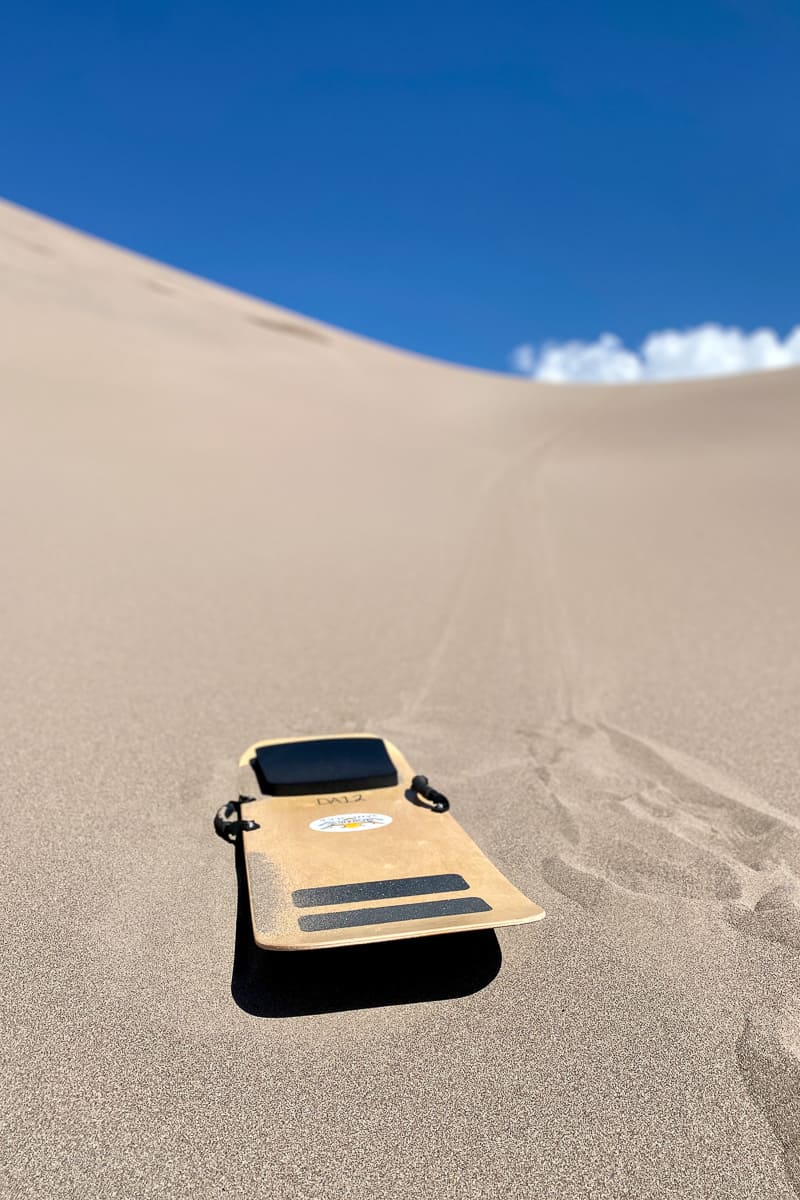 My husband, an avid snowboarder, opted for the sandboard.
Also, the board is slightly larger and heavier than the sled, if that matters to you. Although, honestly, they were both a little clunky to carry when tired.
Can I Use My Snowboard for Sandboarding in Colorado?
From what I've read, boards and sleds meant for snow do not work well on sand.
Boards and sleds meant for sand are made with different materials, and you'll need to wax the board or sled frequently. If you rent your gear, the wax is included in the rental.
What Shoes to Wear with the Sand Sled and Board
The sandboard we rented had to be used with either bare feet, socks, or water shoes (no hiking boots).
That said, the water shoes we brought were too big for the board (the laces got in the way), so bare-footed was the way to go (until the sand got hot!).
Oasis did sell specialty shoes for their sandboards if you wanted to go that route. I wish we'd picked up a pair for my husband, because bare feet on the hot sand wasn't pleasant. In fact, on some days it can be downright dangerous, since the sand can get 60 degrees hotter than the air temperature.
If you're using a sand sled, you can wear whatever shoes you want. I wore water shoes.
How To Use the Sandboard or Sled
You'll need to apply wax to the both the sled and board before each and every ride.
I thought this was an exaggeration when the rental shop explained the waxing information, but I quickly discovered that it was not.
The coarse sand wears the wax off quickly! Once the wax has worn down, your board or sled won't slide. So, yes, wax in between each use.
Best Weather for Sledding and Sandboarding in Colorado
The sand can get incredibly hot, even when the temperature of the air around you isn't hot.
On the day we went, the ambient temperature was around 70 degrees Fahrenheit at the same time that the sand became too hot to walk on with bare feet.
If we're able to come back, I'd either go when it's slightly cooler or rent the board for two days and go earlier in the morning.
Friends of ours used to live nearby, and they said that 40-degree days were their favorite for exploring Great Sand Dunes.
If you go in winter, make sure to dress warm enough — the wind here can be intense!
When Should I Avoid the Sand Dunes?
As mentioned, the sand dunes aren't a great place to be in extreme heat.
Also, do not attempt to go on the dunes in a thunderstorm. Lightning strikes are a real risk. Storms are more likely in the afternoon.
For both reasons, a cool morning is the ideal time to visit.
What Gear Should I Bring For Sandboarding in Colorado?
Other than the (probably rented) board or sled, and possibly water shoes, what should you bring for sandboarding in Colorado?
First, make sure to bring water and snacks! We packed ours in an Osprey Syncro daypack.
Next, grab your sunglasses and sunscreen. Make sure your sunglasses are 100-percent UV protective. I like these Sunski polarized sunglasses and Shady Rays sunglasses.
I recommend UV protective clothing, especially if you burn easily. I wore this BALEAF women's UPF50 quick-dry shirt and these Columbia Saturday Trail Pants.
Also, this is a windy park, and on especially windy days the sand can feel harsh on your skin. It's nice to have a neck gaiter (like a Buff) to shield your face from sand if needed.
If you're in and out of your car while visiting the dunes, you also may appreciate this Eufy USB-charging handheld vacuum!
Trails in the Dunes
There are no marked trails through the dunes. If you check on trail sites (such as Alltrails), you'll see suggested trails, but they are not marked in the park.
The suggested trails usually mean that you choose one of the named dunes to hike to.
We planned on hiking to High Dune, but ended up just finding some spots that looked like they'd be fun to slide down.
How Big Are the Dunes in Great Sand Dunes?
Compared to other sand dunes I've hiked, such as Jockey's Ridge in North Carolina and White Sands in New Mexico, Great Sand Dunes was different in that the dunes were so much larger than I'd expected.
Again, the dunes are massive. It kind of blew my mind how big they are.
In other dune fields, I'd hike a dune and then go back down. Then, I'd hike another and go down again.
But the dunes in this national park just keep building on one another, so you can go higher and higher and higher.
I'd planned on hiking up and sliding down, then hiking up again. Instead, we hiked up – and up – until we were too tired to go farther, and then boarded/sledded all the way back to the beginning.
Medano Creek
One of the biggest surprises (to me) about Great Sand Dunes, besides the massive size of the dunes, was Medano Creek! This gorgeous creek was refreshing to walk through after a hot day (and a bit of an icy cold start in the morning).
This creek only appears seasonally, so it might not be there if you arrive during the dry season.
Other Activities at Great Sand Dunes
Besides sandboarding in Colorado, what else can you do?
While you're there, make sure to take time to do a little stargazing.
Great Sand Dunes is a Dark Sky Park, and its often said that "Half the Park is After Dark!"
Apparently hiking by starlight is also a popular activity in the dunes, especially during the hotter months. We simply stargazed from our campsite at Piñon Flats Campground, and it was lovely.
After reading Conor Knighton's book Leave Only Footprints, I was also aware that Great Sand Dunes is one of the quietest parks out there.
When you're out on the dunes, take some time to simply listen to what is – and isn't – there.