This post contains affiliate links. As an Amazon Associate I earn from qualifying purchases.
Blender Review: Vitamix vs Ninja vs Blendtec! It's time for a Blender Stand-off, with user interviews and four blending challenges!
This review was NOT sponsored by any of the three brands. All opinions are my own.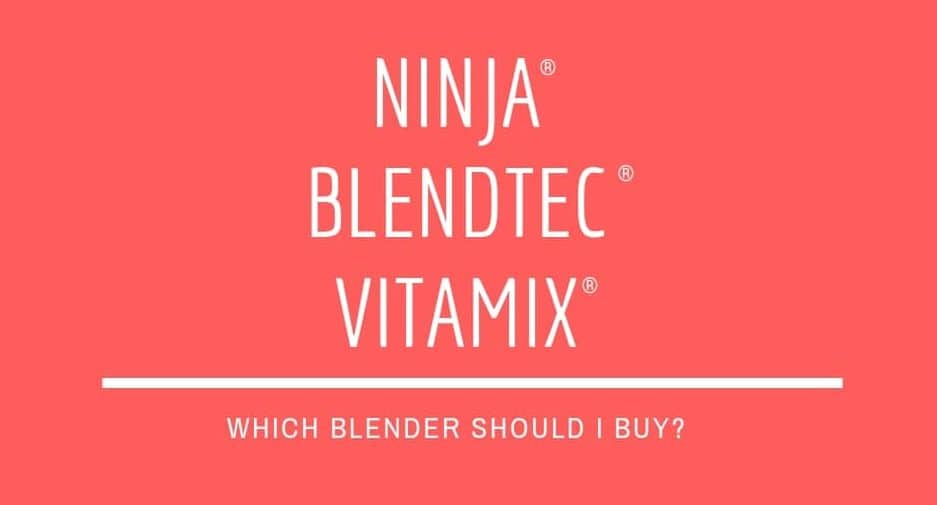 In a hurry? Skip straight to the NINJA REVIEW, the BLENDTEC REVIEW, the VITAMIX REVIEW, or SEE THE WINNER!
I have a confession. Are you ready?
I'm a BLENDER MURDERER!
It's true – I have single-handedly caused the death of 4, 5... 6?... innocent blenders.
I've melted the plastic. I've cracked the basins. I've had gaskets break, motors stop working, and basin seals go bad.
I've brought home brand-new blenders, only to find they rock back and forth noisily, or leak all over my counter.
Is it me? Is it the blenders?
Either way, it was time for a change.  Time to end the Blender Death Streak, and find a better blender solution.
I decided to pick my next blender by borrowing expensive blenders from friends and family... without revealing my history as a blender killer.
For the record, no blenders were harmed in the making of this review.
The Blender Review - Vitamix vs Ninja vs Blendtec
I interviewed friends, families, and my readers about their favorite blender – and everyone had a lot to say.
Want to read some of the comments? Here's a link to the Instagram conversation!
After listening to everyone's comments, I decided to try out Ninja, Blendtec, and Vitamix blenders, and do a blender review to see how each one held up in Appearance, Speed, and Blend Quality.
Blender Review: Ninja
I tested the Ninja Pro System 1100
.
The cheapest of the batch, with some models starting at around $50-- is the Ninja.
Ninja blenders are NOT professional-grade, but claim to be affordable powerhouses able to pulverize even hard-to-blend foods in seconds.
The Interviews
Most people I interviewed about their Ninjas had nothing but good things to say about the blender.
When there were complaints-- they were usually about the blades. The Ninja has a 3-blade system, and Ninja users complained that the blades were extra sharp, and also a little scary to pull out and clean.
A few people also told me that the blender was amazing with rough chopping, but didn't deliver a smooth, silky blend (especially with sticky items like dates).
There were also a couple complaints about poor design-- a spout that spills when you pour, areas on the outside of the basin that trap dishwasher sediment and are hard to clean, and some models lack the plastic removable insert in the lid that allows you to release steam or add liquid mid-blend.
Blender Appearance
The model I tested for this blender review was several years old, and was starting to show a little wear.  The plastic coating on the base had started to warp slightly, and the basin was slightly etched.  Overall though, it was in decent shape.
It was lightweight enough to easily pick up and store in a cabinet when it wasn't in use, and I liked that this model had the option of switching out a small basin for smaller batches of food.
Blender Speed
The Ninja was fast! It crushed everything I put inside it quickly, and I was impressed!
Nothing took more than a few seconds to blend, no matter how thick. It did vibrate on the counter slightly when I had it on high speed, but didn't move around or rock.
Blend Quality
The Ninja blended everything into very tiny pieces, and handled the frozen fruit and ice with zero problems.
The leafy greens I blended were mostly blended through, although I found two spinach leaves untouched, stuck to the side of the basin, probably hanging on for dear life!
When I added chickpeas and dates to the basin, I did end up with a more chunky, less-than-silky hummus.
Overall
I thought this was a decent blender, especially if you're comparing it to a standard, non-professional blender.
Will it completely purée everything? No, but overall I was impressed.
The only things that I REALLY did not like about the Ninja were the lid and unsecured blades.
The blender wouldn't even switch on if I didn't have the lid perfectly secure and turned the correct direction. I felt was probably a too-restrictive safety feature.
Also, the blades on this model needed to be pulled out of the blended food before pouring. I kept forgetting to pull them out, and they'd fall right out of the basin when I started to pour. That didn't feel safe at all.
Blender Review: Blendtec
I tested the Blendtec Classic Series 575
The Blendtec is the blender system that I knew the least about-- but I've got a friend who gushes and gushes about her Blendtec, and I like their series of 'Will it Blend' marketing videos showing their blenders, quite impressively, demolishing iPhones.
Wasteful? Yes. Amusing and entertaining? Also yes.
They market their blenders as "safe, but powerful," with blunt blades (not sharp blades) that blend, in theory, at 300 miles-per-hour.
Blendtec blenders are more expensive than Ninja's, with models starting at around $200 refurbished or $300 brand new.
The Interviews
I had a really hard time finding anyone who actually USES a Blendtec. Out of all my interviews-- I only found three Blendtec users, and all three were 100% in love with their blender.
Blender Appearance
The model I tested was heavily used and on its second owner, but it was in great shape.
The base and basin still looked almost like new. As with the Ninja, I felt like this Blendtec was lightweight enough to store in a cabinet and move onto onto the counter when you wanted to use it.
Blender Speed
This blender was fast, and blended anything I threw at it in seconds. The base stayed firmly in place while blending, even on high speeds.
Blend Quality
The Blendtec handled frozen fruit and ice just as easily as the Ninja, but with smoother and creamier results. It easily puréed the spinach, as well as the dates and chickpeas.
Overall
This blender is impressive. The ONLY negative I saw was that it was LOUD-- and I do mean LOUD. All conversation stopped while the Blendtec was running.
Blender Review: Vitamix
I tested the Vitamix 5200
AND the Vitamix 750
with a Low-Profile Basin
And finally-- the Vitamix. Compared to Vitamix competitors, this sturdy blender system is the most expensive, with models starting at about $250 refurbished or $500 brand new.
Vitamix has been around for years and years, and its blenders are, supposedly, designed to LAST. Impressively, these blenders are also supposed to be able to make ice cream, knead bread, and even cook soup.
The Interviews
I had high-- and I do mean HIGH-- expectations of the Vitamix.
Vitamix owners repeatedly told me that this machine was life-changing, that it would never die, and that it would give me the silkiest blends I've ever seen. They told me they used it daily, and that its massive size was balanced by its usefulness.
One reader told me she'd had her Vitamix for 22 years, another for 15 years, and the friend who let me use her Vitamix was pained to part from it for even a single day.
A few readers mentioned Vitamix downfalls-- they told me that the long, narrow basin could trap thick foods at the bottom, and that it was hard to get everything out of those batches. They also told me that the machine was a workhorse, but sometimes struggled with small batches that didn't fill the basin.
Blender Appearance (5200 Series)
First of all, I'd HEARD that standard Vitamix blenders were big, but I was a little startled by just how huge this thing is.
It's about 20" tall-- that's right-- just short of two feet high, and the base was 7"x8". This thing is hefty.
The blender basin holds 64 ounces-- about twice the size of my current compact blender basin. That said, it was pretty and white, and the spout was well-designed to avoid spills and splatters.
Blender Appearance (750 Professional Series with a Low-Profile Basin)
Even with the low-profile or smaller jar attached to the base, this is NOT a small machine. It's also a heavy machine, and I don't think I'd like to move it back and forth to a cabinet. But if I wanted to-- it would fit.
The standard-sized basin (on the 5200 model) was too tall to fit inside or underneath any of my kitchen cabinets, so I was pleasantly surprised to see that the low profile series fits under my kitchen cabinets on the countertop AND will fit inside my kitchen cabinets.
This model came with a tamper to help push down any air bubbles while blending.
Everything on both models was high quality. The older 5200 series was in fantastic shape, even after years of daily use.
Blender Speed
Both Vitamix models that I tested blended the foods a little more slowly than either the Ninja or the Blendtec. I'd almost call the blending "gentle"-- there was very little splashing around on the low-speed settings, and both models steadily powered through all the blends.
This blender didn't love it when I threw in frozen fruit and ice with very little liquid, but as soon as I added more liquid-- it got to work.
It wasn't exceptionally noisy, and on the slower settings was actually pretty quiet compared to the other two blenders. Neither Vitamix model budged at all on my counter when turned on, even at high speeds.
Blend Quality
This is where the Vitamix shone over its competitors.
Each and every blend turned out silky and smooth, and I saw why people love Vitamix.
The margaritas I blended were well blended without chunks of ice, the greens inside the green smoothie were demolished, it handled the dates just fine, and it made incredibly creamy hummus.
Overall
My biggest impression was that this blender is exceptionally well-made.
This isn't a blender that will crush anything you throw into it within 30 seconds. However, everything that I did put inside was steadily broken down and puréed until creamy. I trust Vitamix's reputation, and trust that this blender would last for years and years.
The bonuses with this blender are big-- since I don't have a stand mixer, I love having the option to knead my pizza dough in the Vitamix instead of by hand. The fact that it can cook soup is kind of amazing, and I was really pleased with the self-cleaning setting.
Blender Review: The Winner
Okay, I'm actually not going to choose a real winner. Why not? Because I think it really depends on how much you want to spend, and what you expect from your blender.
The Ninja
Keep in mind that the Ninja may show wear and tear earlier than the Blendtec or Vitamix, and probably won't give silky blends with thick, hard-to-blend foods like dates or hummus.
Choose this blender if:
You want to spend less than $100
You are a-okay with the extra sharp, 3-blade setup
You blend a lot of frozen smoothies.
Shop for the Ninja Pro System 1100!
The Blendtec
This blender does exactly what a good blender should. It blends-- pure and simple, and it does it well.
As a somewhat accident-prone person, I appreciated the blunt blades. I also liked that it weighed less than the Vitamix, making it easier to stow away if you don't have a lot of counter space. It also seems to hold up well over time.
Choose this blender if:
You want to splurge on a high-quality blender, but don't have the counter space for a Vitamix
You demand smoothies be ready in seconds
Shop for a Blendtec Classic Series 575!
The Vitamix
This machine was drool-worthy. It blends, it cooks, it kneads dough, and it cleans itself. Plus, it has a reputation for lasting for decades.
Choose this blender if:
You've got the budget
You've got the counter space
You want a multi-purpose kitchen tool
Shop for (my favorite) -- Vitamix 750!
What do you think? Is Vitamix worth the money? Do you have a favorite blender? Do you have a blender-related worry that I didn't mention? Let me know in the comments!
↓Pin Me For Later ↓
Want to try a few recipes that use a blender? Try these: