This post contains affiliate links. As an Amazon Associate I earn from qualifying purchases.
This decadent lingcod recipe features pan-seared fish cooked in butter and oil, and topped with an easy lemon caper pan sauce.
We've been eating lots of wild Alaska seafood this summer.
It's been wonderful.
Our community supported fishery deliveries from Sitka Salmon Shares have included sablefish, cod, halibut, and the prized Alaska lingcod.
We've happily enjoyed teriyaki sablefish, sweet chili sablefish, broiled cod, broiled halibut, and halibut tacos.
When the lingcod arrived, I started researching all things lingcod. Then I moved onto the delicious part, testing lingcod recipes like Panko lingcod and baked lingcod.
What Is Lingcod?
Despite the name, lingcod is not a type of ling fish and it is not a type of cod.
Alaska lingcod is a type of greenling, a bottom dwelling fish.
Lingcod is dense and mild, and while it doesn't taste just like halibut, the two fish are very similar. If you've got a halibut recipe that you love, you can swap the halibut for lingcod.
And guys, that's exactly what I did.
This pan-seared lingcod is based on two of my favorite fish recipes: Julia Child's fish meunière (fish in butter sauce) and this pan-seared halibut with lemon caper sauce.
What If I Can't Find Lingcod?
Lingcod is (admittedly) not always easy to find!
If you can't find lingcod, halibut is the best swap in this recipe.
That said, this recipe uses a basic pan-searing technique that would be delicious with lots of different types of fish.
When swapping lingcod for other fish, keep in mind that the cook time will change depending on the thickness of your fish. Also, delicate fish will be more difficult to pan-sear than sturdy, dense fish (like lingcod and halibut).
How to Make Pan-Seared Lingcod
Start by patting your (thawed, room-temperature) lingcod dry.
Dust the fish with flour. If you're gluten-free, it's fine to use an all-purpose gluten-free flour such as Cup 4 Cup.
Next, add oil and butter to a heavy pan. I use this Lodge 12" carbon steel skillet.
Wait for the butter to melt, and then add the lingcod to the pan.
Cook the fillets for about 4 minutes, or until a thin metal spatula will easily slide under each fillet.
If the fish sticks to the pan and doesn't want to release, wait 30 seconds and try again.
Flip the fish, and top each fillet with a knob of butter.
Cook another 3-4 minutes, and then remove the fish from the pan.
Add a little lemon juice and some capers, and stir, stir, stir.
Add a few herbs, stir again, and turn off the heat.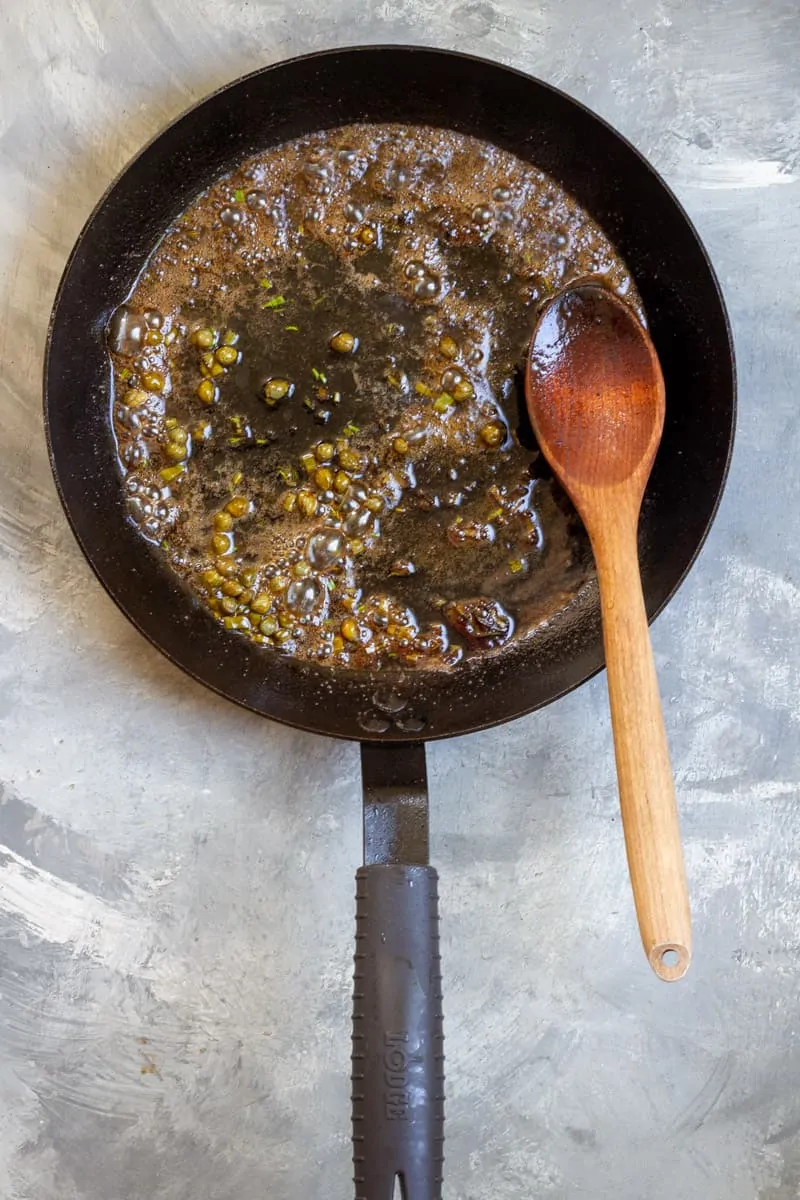 Serve the lingcod right away, along with the pan-sauce and your favorite side dishes. I like to serve mine with Instant Pot jasmine rice, garlic cauliflower mash, and honey balsamic brussels sprouts.
Lingcod Recipe: Pan-Seared Fish with Lemon Caper Sauce
This decadent lingcod recipe features pan-seared fish cooked in butter and oil, and topped with an easy lemon caper pan sauce.
Ingredients
8

ounces

lingcod (~2 fillets)

1

tablespoon

flour

Use gluten-free AP flour if needed

pinch salt, pepper

1

tablespoon

olive oil

2

tablespoons

butter, divided

1

lemon, juiced

1

tablespoon

capers

small handful fresh herbs (such as fresh rosemary, chives, or oregano)
Instructions
Pat lingcod fillets dry.  Dust with flour, and shake off any excess.  Sprinkle them on both sides with salt and pepper.

Prepare a heavy pan with the olive oil and 1 TB butter. Heat on medium-high until butter is melted but not browned, then turn the heat down to medium.

Place the fillets in the pan and cook about 4 minutes. Don't touch the fillets until they're ready to flip.

Use a thin metal spatula to test the fish.  If you can slide the spatula under the fish without the fish sticking to the pan, it's ready to flip. If the fillets won't release, give them another 30 seconds. They'll release when they've finished cooking.

After flipping, divide the remaining 1 TB butter over both fillets.

Cook fish another 3-4 minutes until done. Fish will be golden on both the top and bottom and opaque all the way through when finished cooking.

Transfer the fish to plates, leaving the excess butter in the pan. Cover fish to keep warm, or set fish in a 200ºF oven.

Reduce heat to medium.  Add the lemon juice and capers, and stir with a wooden spoon. Add half the herbs and stir again. 

Serve fish hot with pan sauce and remaining herbs.
Nutrition
Calories:
289
kcal
(14%)
|
Carbohydrates:
8
g
(3%)
|
Protein:
21
g
(42%)
|
Fat:
20
g
(31%)
|
Saturated Fat:
8
g
(50%)
|
Cholesterol:
89
mg
(30%)
|
Sodium:
287
mg
(12%)
|
Potassium:
570
mg
(16%)
|
Fiber:
2
g
(8%)
|
Sugar:
1
g
(1%)
|
Vitamin A:
350
IU
(7%)
|
Vitamin C:
29
mg
(35%)
|
Calcium:
30
mg
(3%)
|
Iron:
1
mg
(6%)
Tried this recipe?
Leave a comment and rating below!