These gourmet recipes on a budget feature gourmet-style recipes that are full of flavor and flair, but won't hurt your wallet!  
Does your bank account start sobbing as soon as your car pulls into the grocery store parking lot?
Does your credit card start to hide deeper and deeper in your wallet as you approach the checkout?
If buying your usual groceries stretches your budget, buying "fancy food" for a party or date night might send you into a panicked frenzy!
Never fear– fellow budget-conscious foodies!
If you too, have "champagne tastes, but a beer budget," these 18 Gourmet Recipes on a Budget will help you serve flavorful, gorgeous food– without stripping your savings account dry.
Some of these recipes use foraged food, others use food that is sometimes discarded (like shrimp shells), and others use inexpensive ingredients like vegetables and legumes.
You'll also find recipes with (relatively) less pricey seafood options– such as flounder or domestic caviar.
Obviously, everyone's budget will be different, and cooking a delicious meal for two will (almost) always be cheaper than cooking for a crowd.
Whatever your budget, however, these budget-friendly, gourmet recipes will help you serve your guests with style!
Starters
Whether you're serving tapas, appetizers, or just want to start things off with a salad, these budget-friendly starters are here to help!
If you want to try foraging for greens (or picking up foraged greens at a farmer's market), try this Miner's Lettuce and Mezuna Salad from Diversivore.
To start your dinner with a soup, I like this French Shrimp Soup from Sprinkles and Sprouts.
And for an easy smoked salmon appetizer, try these Smoked Salmon Canapes from Garlic and Zest.
And then, there's my absolute favorite party appetizers, listed below. The sardine fish cakes are my go-to appetizer!
A Canned Sardine Recipe: Mini Fish Cakes
These mini Sardine Fish Cakes are served with a Spicy Yogurt Sauce, and are perfect to serve as Tapas or Hors D'Oeuvres.
Make It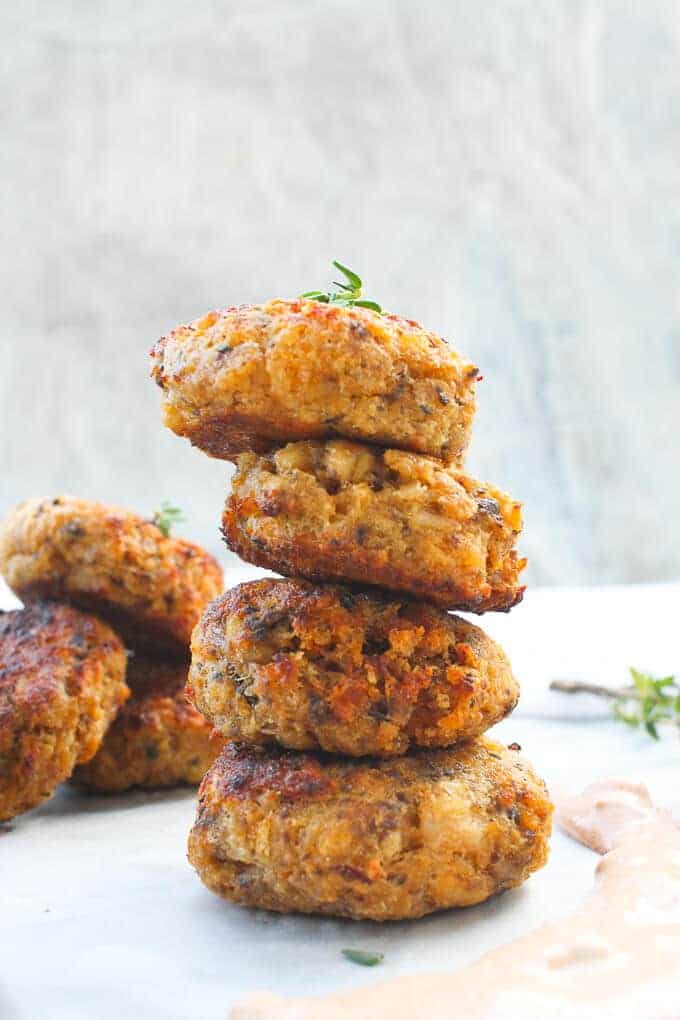 Spinach Stuffed Mushrooms with Artichokes
These easy spinach stuffed mushrooms are stuffed with spinach artichoke dip, and topped with freshly grated Parmesan. They're a perfect vegetarian appetizer or side dish!
Make It
Brie en Croûte
Brie en croûte is an easy and delicious cheese and puff pastry appetizer.  It's gorgeous as a cheese board centerpiece, and is a perfect game day appetizer!
Make It
Main Courses + Sides
When it's time to move onto the main course, try making these impressive baked potato roses from Curry Trail and this vegan pumpkin pasta with wild mushrooms from Cilantro and Citronella.
Below are some of my favorite fancy-schmancy (and affordable) dinner ideas.
The vegan ratatouille and salmon wellington are perfect served together!
Lemon Risotto with Roasted Cauliflower
This vegan Lemon Risotto is a creamy citrus rice dish that's served with spiced and roasted cauliflower.  Serve this dish as a main course for Date Night, or as a fancy side dish at your next dinner party!
Make It
Butternut Squash Galette with Bourbon Drizzle
This Butternut Squash Galette is perfect for fall and winter! It's filled with caramelized onions and goat cheese, wrapped in a Parmesan crust, and topped with a bourbon drizzle.
Make It
Vegan Ratatouille Tian
This vegan Ratatouille Tian is a combination of two easy French dishes, and is perfect for flavorful vegetables like eggplant, tomatoes, and summer squash.
Make It
Salmon Wellington
This Salmon Wellington recipe features puff pastry packets filled with spring greens, mushrooms, goat cheese, and salmon, along with an easy mustard sauce.
Make It
Desserts
Of course, a gourmet dinner must end with dessert!
Try these red wine poached pears by From a Chef's Kitchen, along with some of my top desserts that I've listed below.
The apple puff pastry tartlets are one of my all-time favorite party desserts!
Chocolate Lava Cake
This easy Chocolate Lava Cake is the perfect dessert for two!  Plus, check out my secret for an extra chocolatey center!
Make It
Apple Puff Pastry Tartlets
These Apple Puff Pastry Tartlets are made with Brie, dried currants, and a drizzle of honey for a quick and easy dessert!
Make It
Flognarde: Berry Clafoutis
This Flognarde, or Berry Clafoutis, is a classic French cobbler that is the perfect way to show off your spring and summer berries!
Make It
Apple Galette with Brown Butter
Love apple pie? This apple galette is made with spiced brown butter and is an easy and delicious make-ahead dessert.
Make It